The fashion trend for this spring is all about stripes. I always love the black and white stripes but was afraid to wear them. After reading this article:
Horizontal stripes make women look thinner
, I was excited to try on all the stripes fashion that are availalbe at the department store.
After experiencing all the difference clothing, I have found only certain type of cut and width of the stripes that across the body gave the slimming effect. Here are what I found:
Medium size horizontal stripes that are in darker color are better to wear. It gives a depth of curve and hide area that you don't want people to notice. I found it is important to not wear top that's fits to the body. It should not be too loose or too clingy. It definitely gave a curvy look with a supported bra.
With broad stripes across the top gives an illusion of a bigger bust and narrower waist.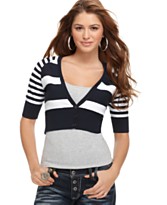 Bold wide stripes works better on a loose garment
I love this diagonal and vertical stripes blouse which elongates the body.
I particular like the look of a broad stripes cardigan over thin stripes top. This cardigan is similar to what I have at home but mine has broad and even stripes across.
If you are one not into stripes but still want to keep up with the trend, layer a plain cardigan or jacket over a top like this: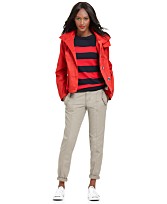 or use these cute accessories:
I bought this infinity scarf for my daughter. She looked so chic when she wore it with her solid black long sleeve top.
There are also many colorful stripes around to have fun with this season. Colorful stripes accessories can really make a simple outfit "pops". It's best to avoid yellow color when pair with black and white stripes as it would seem like a "bee" costume. I hope everyone is having as much fun as I have with this trend.